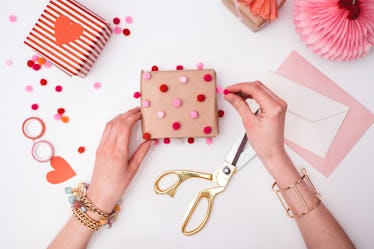 5 Perfect Valentine's Day Gifts Under $100 That Any Girl Would Love
Valentine's Day is one of the more polarizing holidays on the calendar. But for those of you in relationships, love it or hate it, the day should be a nice reminder to do something sweet to show your partner you appreciate them. Flowers, chocolate, and stuffed animals are fine gifts, but they usually signal a last-minute gift buy. You can take your partner out to dinner, but you might want to get them a little something as well. After all, it's one day a year! So let's talk about Valentine's Day gifts for girls under $100 that you can present your SO with on February 14.
I'm a true believer in "it's the thought that counts" when it comes to gift-giving. Let me be clear: I don't consider "thinking a lot about a present" an excuse for not getting one, but I do think that the best presents I have ever received have been extremely thoughtful and personal to me. On the other hand, there are some gifts that I would bet not one of my female friends would turn down. Usually, these universally beloved gifts are nice items that one normally wouldn't splurge on for themselves, but whose luxurious appeal no one can deny (see: Diptyque candles). Here are some gifts that I personally would love to receive this Valentine's Day (hint, hint).
1. MoviePass
With awards season in full swing, the movie buff in your life may be spending all of her dollars on seeing all of the movies out (without controversial men in them, of course). For $9.95 per month, MoviePass allows you to go see an unlimited amount of movies at theaters all over the country. The pass even includes my local drink-booze-and-eat-good-food theater, Nitehawk Cinema. All you do is sign up for a card, download the MoviePass app, and pick up your tickets using your card (which will arrive by mail) at the box office. Easy as popcorn.
2. A Diptyque Candle
Yes, $64 is an enormous amount to spend on one candle, but a Diptyque candle has the power to make a room smell excellent all day after burning for under an hour. (And the good kind of berry smell, not the sickening one lip balm sometimes smells like.) This is the perfect gift for partners who appreciate a nice candle, but don't like to drop a lot of money on themselves. A random candle might be trite, but a Diptyque will not go unnoticed. (P.S. Baies and Rose are my favorite scents.)
3. An Unbound Box
Unbound is an extremely cool female-centric sex toy company that offers subscription boxes as well as vibrators, serums, and even Elizabeth Warren-themed totes à la carte. I love this gift because it says both, "Babe, I want to take care of your needs," while also saying, "We could have some fun with this tonight, no?" A vibrator on its own might seem like an aggressive gift, but this starter set from such a female-positive startup says, "I love you very much."
4. A Sun Basket Subscription
This post is not sponsored by anyone but me, as I recently tried the Sun Basket meal subscription service and was very impressed. Even as a terrible cook, it was incredibly easy for me to cook these recipes and they were very tasty. This is a perfect gift for a partner who is always on the go, as she'll appreciate its convenience. If you're a first time subscriber, three meals for your first week is only $36.94, so it's an affordable gift as well.
5. A Fenty Beauty Mattemoiselle Lipstick
Even if your partner isn't super into makeup, any of Rihanna's Fenty products will be a delight this Valentine's Day. Fenty is new, the packaging is super sleek, and every woman I know is all about the products. The Mattemoiselle lipstick is long-wearing and comes in 14 different shades, which makes it the perfect lip product to gift this V-Day. Let me know if it's smooch-approved!
Check out the entire Gen Why series and other videos on Facebook and the Bustle app across Apple TV, Roku, and Amazon Fire TV.
Check out the "Best of Elite Daily" stream in the Bustle App for more stories just like this!