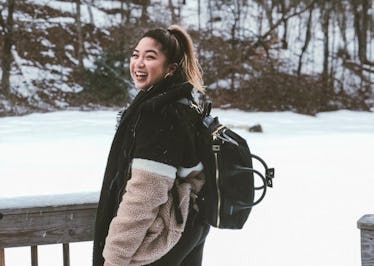 If You Absolutely Hate Camping, But Love The Outdoors, Take These 5 Vacations Instead
I'm the first person to opt for an outdoorsy adventure — as long as it's temporary. In other words, I will gladly go kayaking, hiking, or even horseback riding in the jungle as long as it means I can return to a plush, comfy bed once nighttime rolls around. I love experiencing the great outdoors, but I truly cannot picture myself enjoying pitching a tent, rolling out a sleeping bag, and camping. I know a ton of people like me who are always looking for different types of trips to go on if you love the outdoors but hate camping, because everyone needs a chance to connect with nature.
You might be the kind of person who loves interacting with wildlife, exploring the great outdoors, and maybe even lighting a campfire or two, but when you're on vacay, nothing really beats being able to snuggle up in a giant bed of white linens and enjoying a savory breakfast buffet in the morning.
You don't have to spend the night in a tent to experience the best that Mother Nature has to offer, so try taking one of these getaways instead. You'll leave feeling enlightened, closer to the outdoors than ever before, and the best part — you'll have a ton of pictures to hold onto the memories for the rest of your life.