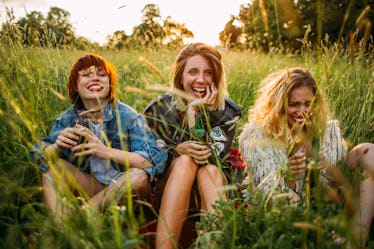 5 Traditions To Start With Your College Roommates As Soon As You Graduate
There are a few different types of friends. Most notably, there are the friends you grew up with and have known forever, and then there are friends you meet in college who you immediately become inseparable with. These college besties are people you spend so much time with, and you can't really imagine living away from them. But, the sad thing is, you might eventually have to. Don't fear, because there are traditions to start with your college roommates after graduation that'll keep you close.
Not everyone will move away from each other. You may be lucky and find a way to live with your college roommates after the cap and gown — but odds are, your careers might take you in separate directions. That doesn't mean that you will grow apart — but like with any long-distance relationship, work needs to be put in to stay close. You need to check in to keep up on each other's lives. Texting your best friends will never get old, but for when you need something other than just messages or memes, starting traditions with your friends will bring you so much closer. You'll have something to look forward to as well as a little bit of a stronger bond.