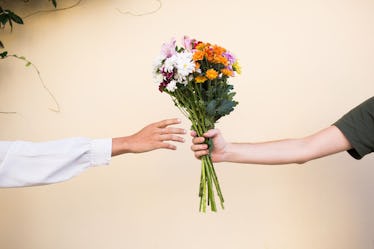 5 Romance Novelists Reveal Their Best Romance Tips That'll Revamp Your Love Life
Where in the world does romance thrive against all odds, in any century, setting, country, or action-packed adventure? Romance novels, that's where. If you're the kind of romantic that curls up with a good romance read when things get tough in your real-life love life, you are not the only one. But why leave the novelists to fiction when they could actually help you out a lot IRL? If you're wondering what the heck I mean, allow me to explain. I've rounded up some super helpful love, romance, breakup and dating tips from romance novelists.
I asked romance novelists for their best tips for creating your own happily ever after, and their advice was incredibly wise. Believe it or not, a lot of their advice didn't even center on love or romance. (Don't get me wrong, they had plenty of helpful things to say about love.) But a huge part of their love advice was about caring for yourself first as well as other relationships in your life. They also stressed that you deserve nothing but the best when it comes to being in love. And the following romance novelists have made sure that you are on the right path towards your most beautiful love story.