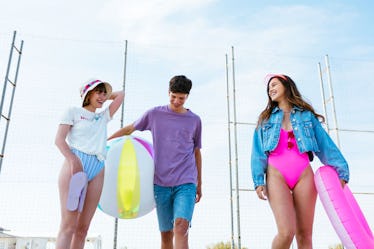 5 Tips For Making Third-Wheeling Fun, Because The Best Things Come In 3s
"Two's company, three's a crowd." Whoever coined that famous expression just never mastered the art of third-wheeling. Because there's no reason why hanging with your bestie and their boo has to be awkward. In fact, being a couple's plus one can be enjoyable AF, as long as you have the right attitude and approach. Need tips for making third-wheeling more fun? Let's start with this: fully embrace your role, and you're bound to have a blast.
Not to brag, but I'm kind of a pro. While I'm in a committed relationship now, I spent several years being the single friend, and at a certain point, I stopped feeling so weird tagging along on outings. In fact, on my spring break during grad school, I traveled to Charleston, S.C. with my guy friend and his GF, and we spent a long weekend beer tasting, indulging in amazing Southern fare, and rooftop bar hopping. And the summer after I graduated, I flew to Chicago and stayed with my bestie and her fiancé for the fourth. In both cases, I enjoyed a full week of third-wheeling — and TBH, some of those memories are among my best.
If you could use some guidance in that department, don't fret — here are some tried-and-true tactics to try for a pleasant third-wheel experience.