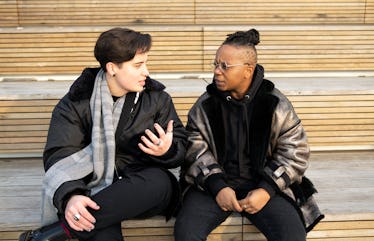 5 Tips For Coming Out To Your Roommate & Feeling At Home In Your Home
For a lot of queer people (myself 100% included), coming out can be a multi-step process. Like, "more steps than building an IKEA shelving unit" level kind of process. From sharing with your friends and family to telling teachers or coworkers, letting the people around you know who are you is no small task. If you're thinking about sharing your identity with the people you share your literal space with, these tips for coming out to your roommate may help you feel at home in your home.
"Coming out, or 'inviting in', looks different for everyone as we all have our unique paths to understand and to accept ourselves with relation to our gender and sexual identities," Jor-El Caraballo, co-creator of holistic wellness center Viva Wellness and a therapist specializing in LGBTQ clients tells Elite Daily. "As most of us still live in cultures that aren't yet fully accepting of LGBTQ folks, coming out on your own terms is a way of establishing control and walking in one's power."
Whether you sit your roommate down for a long talk or you casually open up about your identity over breakfast, here are five expert tips for coming out to your roommate.