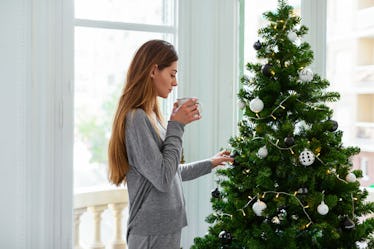 Experts Reveal How To Cope When The Holidays Feel Like The Loneliest Time Of Year
You know how, sometimes, you can be surrounded by a sea of people, and still feel completely alone? For some, that pretty much sums up the holiday season in a nutshell. Holidays are assumed to be joyful, but some people, no matter how hard they try to have themselves a merry little Christmahanakwanzika, can't help feeling lonesome. If this scenario sounds all too familiar around this time of year, the good news is, you're not alone, and experts have shared their best tips for combating loneliness during the holidays to help you navigate your emotions if the most wonderful time of the year doesn't feel so fabulous.
In 2017, the American Association of Retired Persons (AARP) conducted a survey to figure out what feelings people tend to associate with the holidays. According to the questionnaire's results, 67 percent of adults 18 years old and over feel warm, happy feelings like love, joy, and excitement around the holiday season, though a significant 31 percent of respondents admitted to feeling lonely this time of year. Heartbreaking as it may be, the most common reasons why some people might experience these types of emotions around the holiday season definitely make sense.
For example, if you've recently lost a loved one, cut ties with an SO, or you aren't able to catch a flight home for whatever reason, Lisa Olivera, a licensed marriage and family therapist, explains that going through the motions of the holidays with so strong an absence "can be painful and heighten feelings associated with grief and loss."
If you, or someone you know, experiences loneliness around this time of year, know this: You are definitely not alone in these difficult times, your feelings are valid, and it is going to get better. Allow yourself to feel lonely when these emotions surface, and when you feel ready to do so, try to give these expert-approved tips for combating loneliness a try.