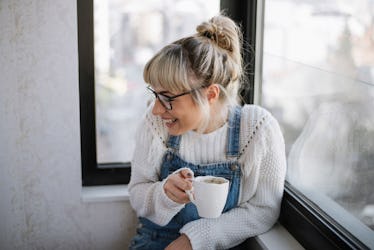 As Long As You Do These 5 Little Things This Winter, You'll Avoid The Flu
During flu season, it can often seem like no matter which way you turn, you're somehow being exposed to the nasty virus. In subway cars, offices, classrooms, and literally when you're just walking on the sidewalk and minding your own business, people are coughing and sneezing up a storm — like, the act of breathing itself can sometimes feel contagious, you feel me? It's during this time of year that you need tips for avoiding the flu the most, so you can stay your healthiest and happiest throughout the busy holiday season.
Before we get into some of these tips, though, let's be clear that it's definitely important to get your flu shot first before anything else — not even just for your own health, but for the well being of everyone you come in contact with.
Once your flu vaccination is done and dusted, it certainly doesn't hurt to be extra careful about protecting your health. Erin Casperson, dean of the Kripalu Center for Yoga and Health's School of Ayurveda, has a few natural tips to share that'll help you feel your best when germs, sneezes, and sniffles seem to be lurking around every corner.
All of Casperson's suggestions come from Ayurveda, which, according to the National Center for Complementary and Integrative Health (NCCIH), is "one of the world's oldest medical systems." The Eastern medicine, which the NCCIH says is still practiced today in India, focuses on "universal interconnectedness (among people, their health, and the universe), the body's constitution (prakriti), and life forces (dosha)."
Here are some of Casperson's Ayurvedic flu tips to keep in mind this season.