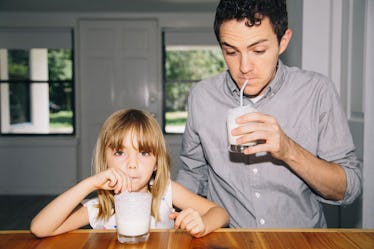 TBH: You Still Need Your Dad In Your 20s, Even Though You're All Grown Up
From my personal experience, I can tell you that adulting typically comes in waves. Some weeks, you're head over heels in love with apartment hunting, meal planning, and going grocery shopping with your roommates. Other weeks, you're continuously wondering if it's socially acceptable to curl up in bed and take a nap. You're pacing around your kitchen, looking for something to eat, and remembering the times your dad or the dad figure in your life would throw dinosaur-shaped nuggets in the oven. (Those were the days, huh?) In addition, you're realizing that even though you're grown up now, there are many times you still need your dad in your 20s.
Some of these times are a little more obvious, like when you need a full-belly laugh or advice on an application for a new job. You pick up your cell phone, tap his name in your contacts, and anxiously wait for him to pick up. He always answers with a welcoming, "Hey, kiddo," and a true interest in what's going on in your life. He does his best to answer your most pressing questions and to help you navigate the "real world." He tells you stories from when he was a kid, in hopes that they'll inspire you to follow your heart or your wildest dreams.
In those moments, you can't help but think, "I have my own superhero." It's true. These five times when you need your dad in your 20s are the living proof.