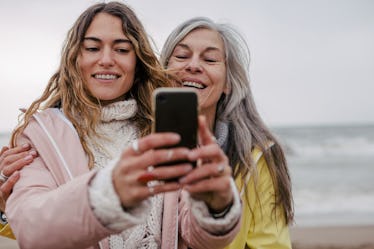 5 Things Mom Still Does For You In Your 20s That Used To Annoy You In Your Teens
As a teen, you might have thought everything was overrated. You may have filled your closet with the latest trends, because the ones from last season were, well, so last season. The music on the radio was too mainstream, so you may have listened to bands that you found on your own. You also may have rolled your eyes at mostly everything — from your homework assignments to your mom's advice and comments on your attitude. Truth is, you just desperately wanted her to consider you an "adult." Now that you've grown up, there are some things your mom does for you in your 20s that annoyed you in your teens (but you're really grateful for now).
Back then, you might have been frustrated any time your mom wanted to teach you how to cook something in your kitchen. You might have looked at her and said, "Mom! I have so much homework to do," not realizing that you'd want to know those recipes down the road. You might have begged her to stop telling you stories from her childhood, because you wanted to make new memories. You didn't know that those stories were full of advice that would help you navigate your 20s.
Long story short: You know these things now, and are grateful that your mom does these five things for you. Send her a "thank you" card, OK?