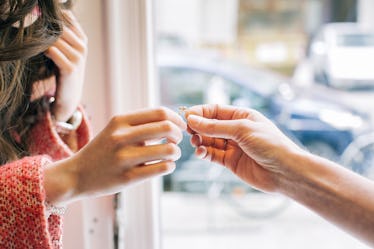 5 Things You'll Notice If Your Partner Is Considering Proposing, So Get Ready
If you're in a relationship, you see a future with your partner, and you want marriage to be part of that future, then the thought of your partner proposing has likely entered your brain at some point. Maybe you think it's a ways off, or maybe you're anxiously awaiting the moment when your significant other pops the question. Whatever the case, there are definitely things you'll notice if your partner is considering proposing. From their attitude to the things they want to talk about, and so much else in between, there are actually a lot of signs that you might soon be rocking a carat or two.
Now, some people might not believe that you can tell your partner is about to propose, but according to one relationship expert, you totally can sense when something is up. "It's true that if you are really attuned to your partner's style of communicating, then you can trust that your love instincts are picking up those tells that your partner wants to propose," Dr. LeslieBeth Wish, licensed clinical psychotherapist, relationship expert, and author of the new book Training Your Love Intuition, tells Elite Daily. So if you have a gut instinct, you might just be on to something, but there are other ways you can tell if you want more concrete evidence before calling your mom.