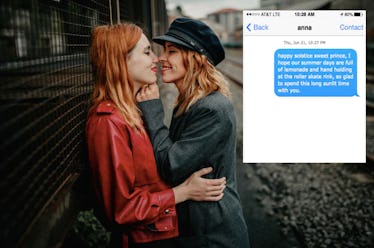 5 Texts To Send Your Partner During Pride To Let Them Know How Much You Love Them
During my last relationship, my girlfriend and I would text each other somewhat infrequently. When we did communicate we wrote one another what were essentially poems. We described our dreams to one another; we talked about what our bodies were feeling as we moved through different cities. We responded to one another's messages in our own time, which meant our intimacy moved on its own schedule.
When you're thinking about what texts to send your partner during Pride to tell them how much you love them, you might find that getting really creative is a good way to embrace your queer love. You might find that showing them how much you love them through new descriptions is more effective then simply using the same tired language to express how you feel. Words can ruin emotions, after all, if they are not being used precisely.
What does it feel like when your partner expresses that they care for you? How do you show love, when the words for describing that emotion are so limited? Text is just the beginning of how to communicate tenderness for one another. No matter what you end up sending over text, know that how you show up for one another physically, emotionally, and intellectually is what really matters.