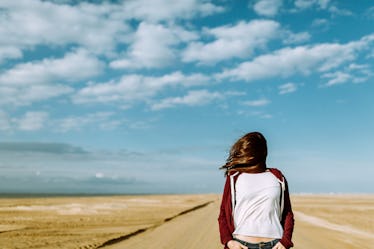 If You're Super Moody Lately, Here's What Might Be Missing From Your Diet
Sometimes mood swings are just that: mood swings. They swing by for a brief moment, but pretty soon, you feel like you're back to normal, and you don't even think twice about it. Other times, though, you start feeling moody out of nowhere, and no matter how much sleep you get or how many yoga poses you do, something's still not right. If you've been feeling off for a while, but can't seem to figure out what the exact cause is, then you might want to know about some of the subtle signs you need more vitamin B12, because yes, believe it or not, a vitamin B12 deficiency really could be the culprit behind your mood swings, along with a whole host of other annoying symptoms.
According to Healthline, vitamin B12 is a water-soluble vitamin necessary for the production of red blood cells and DNA, and is also important for the functioning of your nervous system. Vitamin B12 is typically found in animal-based products, like dairy, eggs, meat, and fish. If you're vegan or vegetarian, Healthline reports you can find B12 in plant-based milk, too. It's also possible to take B12 supplements, if you can't seem to get enough of it in your diet.
If you think your body might be lacking vitamin B12, the only way to know for sure is to take a blood test. Healthline notes that vitamin B12 deficiencies can happen slowly over several years' time, so the best strategy might just be a proactive one — i.e. paying attention to your symptoms, and doing your best to keep this vitamin in your diet as much as you can along the way. In the meantime, here are five signs that probably mean you need more B12.