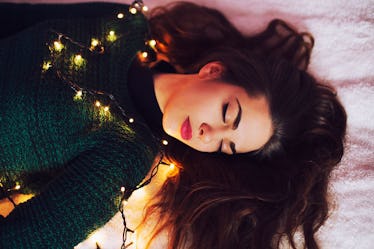 The 5 Sneaky Signs That Mean You Probably Need To Sleep More, According To Experts
You'd think it'd be easy to spot some of the signs that you aren't getting enough sleep, right? The yawning, the severe caffeine dependency, the falling asleep while standing up on the bus (is that one just me?). The truth is, though, there are other, more subtle signs you need more sleep; they're just not as in-your-face as dark circles or a long, drawn-out yawn. Not to pull a mom card and tell you that you should be GETTING TO BED EARLIER, DEAR, but for real, if you notice a couple of these signs in your own life, then girl, you should probably look into it a little more.
And look, even if you won't listen to me, you'll probably listen to what an expert has to say: "The importance of a good night's sleep cannot be overstated," Dr. Benjamin Smarr, National Institutes of Health postdoctoral fellow at UC Berkeley and Reverie sleep advisory board member, tells Elite Daily. "Sleep is a critical biological process that your brain and body need to grow, clear out toxins, and get reset for the next day."
If you're ready to get your sleep schedule back on track, just make sure that you stick to a regular routine. "Sleeping [in] eight-hour blocks at any random time of day will not allow your body to recover as well as if that sleep comes at the same time each day," Dr. Smarr explains.
Here are five signs that might mean you need to prioritize your snooze time a bit more.