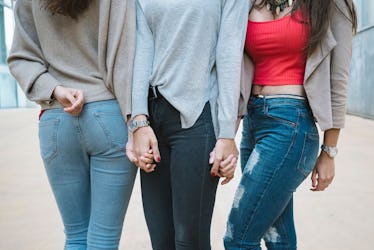 Here's How To Tell If You & Your Partner Are Ready For An Open Relationship
Have you ever wanted to be in an open relationship? For some people, the idea of sharing their partner or being with multiple partners at once is a non-starter. But for others, non-monogamy may actually be a better fit — or something they've always wanted to try. If you're in the latter group, great! But first, you want to make sure you and your partner are ready to take that step. It's important to make sure you're showing all the signs you're ready for an open relationship before you both start dating other people.
While open relationships may not be the mainstream norm, they also aren't as uncommon as you might think. Live Science reports that according to University of Michigan psychologist Terri Conley, 4 to 5 percent of Americans were in openly non-monogamous relationships in 2013. Now, that number may actually be even higher, but the lingering stigma might prevent people from being open about their romantic arrangements. The thing is, non-monogamy isn't uncommon.
A 2014 study of more than 1,200 people conducted by Amy Moors and her colleagues at the University of Michigan shows that between 11 and 22 percent of women were interested in non-monogamy, and the numbers of men interested were even higher, ranging from 23 to 40 percent. But despite men showing more interest, when couples do decide to open up their relationships, a survey conducted by Open Minded found it was the women who were the driving force behind the decision.
If non-monogamy is something you're seriously considering, you want to make sure that you are fully prepared for it. So, I reached out to Dr. Jess O'Reilly, host of the @SexWithDrJess Podcast, to ask what she says are signs that indicate you are mentally and emotionally prepared for a successful open relationship.