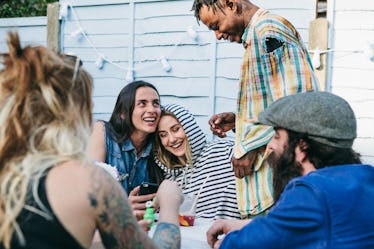 5 Signs Your Partner Is Comfortable Around Your Friends, So Plan That Group Hang
I am a firm believer that couples should spend some time apart with their own friends, to both maintain some independence and to nurture their respective friendships. I mean, we've all known that person who totally dumps their friend group the minute they get coupled up. That just isn't healthy! However, just as important as spending time with your friends on your own is including your partner in those group outings, too. But you don't want to force it. Fortunately there are several signs your partner is comfortable with your friends that might help you decide how to move forward.
So, what exactly should you be looking out for? Well, according to experts, some telltale behaviors can let you know how much your partner enjoys spending time with your friends. Ideally, those relationships between your loved ones will form naturally and easily, but if not, there are some things you can do to help move things along. That way, when there are special experiences that you want to have with your friends (or let's be honest, you just want to hang out with them), bae won't just be up for joining in the fun out of obligation, but will actually be enthusiastic about it. But for that to happen, the first step is for your partner to be comfortable being themselves around your friends, and here's how to to know that they really are, according to the experts.