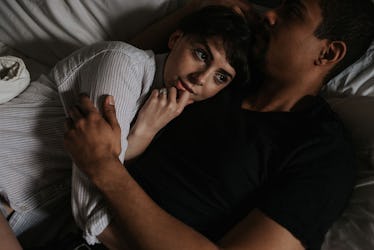 If Your Friends With Benefits Situation Isn't Working, You'll Notice These 5 Things
The appeal of having a regular friend with benefits on call is obvious. Namely, you know that you only have to send a quick text for an easy, uncomplicated hookup — one without any of the obligation and responsibility of a regular relationship. When this kind of attachment works, it works. However, when things start to go awry, they can do so quickly, because the FWB relationship requires a surprisingly delicate balance to maintain and can easily get thrown off balance. So, if you are sensing there are signs your friends with benefits situation isn't working anymore, it may be time to figure out if this is something you want to work on. Alternatively, maybe your best bet is to call it a day and move on before your simple, straightforward dynamic starts getting too complicated.
How do you know if the time is right to end things? According to the experts, there are definite signs when a FWB relationship is on the rocks. It can be subtle — along the lines of just feeling less satisfied by the arrangement in general — or it could be more obvious, like you've gone and broken the cardinal FWB rule and caught feelings. Whatever the case may be, if you've noticed lately that things with your special late-night friend have not quite been how they used to be, you may want to take a closer look and consider your next steps. Here is what the experts say to be on the lookout for.