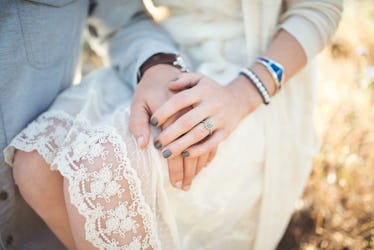 5 Signs You & Your Partner Are Practically Engaged Already, Even If It's Not Official Yet
Before every milestone in a relationship, there is a period of time where you're on the cusp of change. It may happen in a flash or it may be a slow build up that accumulates over time eventually culminating in the milestone. Getting engaged is often like the latter. You spend time getting to know one another progressively getting more serious before one of you finally takes the plunge and pops the question. But before that happens, there's a period of time where you like show signs you and your partner are practically engaged already even though you haven't made official yet. Like, it's clear that's where things are going, but no one has dropped to a knee.
If you are someone who happens to be pretty eager to take that next step, this period of time can make you really impatient. However, if you're not sure of how you're feeling, then this is the best time to really take stock of your future and decide if you want to let things continue to progress. But how do you know if you're actually in this phase? Your best bet is to keep a look out for the subtle signs that indicate you and your partner are both on the same page about where you're at and where you're heading next. Here's how you'll know.