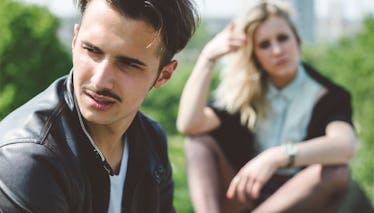 5 Red Flags That You Unfortunately Just Don't Trust Your Significant Other
Trust is the pillar of any successful relationship. If you're dating someone and your relationship has been through some tough times, or you haven't developed clear communication tactics with each other yet, you might find yourself struggling to trust them fully. The signs you don't trust your boyfriend or girlfriend aren't always easy to spot, but when you do recognize them, you can take your first steps toward combating them and growing stronger together.
Feelings of betrayal can be the root of many breaches of trust in a relationship, but a lack of trust can stem from all kinds of places. "Past hurts, abusive relationships, toxic or unhealthy relationships with parents, or emotionally damaging family of origin experiences contribute to how we trust and love others as well as ourselves," explains therapist Liz Higgins, LMFT at Millennial Life Counseling. It's not always obvious where your trust issues arise, but regardless, they can make you feel pretty miserable. As soon as you notice something is off, take the steps to start working through your feelings ASAP. It will take a lot of communication and honesty, but in the end, both partners will benefit. Look out for the following signs that your trust levels aren't in a good place.