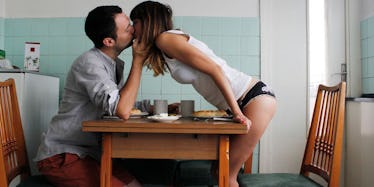 5 Signals You Can Spot From Your First Hookup That It Won't Be Anything Serious
While I've never tried having a strictly physical relationship (I'm way too extra to stop myself from letting pesky feelings get in the way), I know that there are definite pros to a friends-with-benefits type of situation. You could be too busy to commit fully to someone, or you just want physical intimacy, or you feel like you're straight-up not ready for a relationship. If you're interested to feel out if that's what the person you're seeing wants too, or if you want a more traditional relationship, here are some signs someone only wants a hookup.
Of course, these are alternatives to perhaps outright asking someone what they're interested in pursuing with you. But trust me, I get that that direct sort of conversation isn't always the easiest one to have. Sometimes it's just nice to ride the wave of how things are going, and not have to do that "what is happening" conversation that could alter where you think things are headed. If you're wanting to avoid that direct convo (which is likely the best way to get an upfront and honest answer), look out for signs on what the person is thinking by their actions.