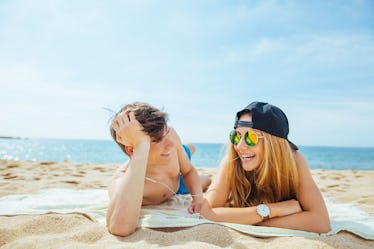 If You're Looking For A Beach Hookup This Summer, Flirt With One Of These 3 Zodiac Signs
The weather is heating up, and you know what that means: It's time to hit the beach! It's the perfect place to get some sun (don't forget the sunscreen!), have fun in the water, and, most importantly, get your flirt on with a hottie. Because, who doesn't love a good summer hookup? Summer love is famous for a reason, but with so many folks to choose from, how do you even pick? Let the stars be your guide, because knowing which zodiac signs to flirt with this summer will definitely be helpful in making sure your beach hookups are a full-blown success.
The key here is to pick people who are like-minded, who have the same summertime fever, and who are just looking to have some seasonal fun. But since you are specifically looking for folks on the beach, they also need to be people who love getting out and showing off their summer bods. So, for example, while Taurus may crush it the bedroom, their preference for indoor activities means they aren't going to be on your radar this time. But who will be? To answer that, you're just going to have to read on. Let the summer flirting commence!