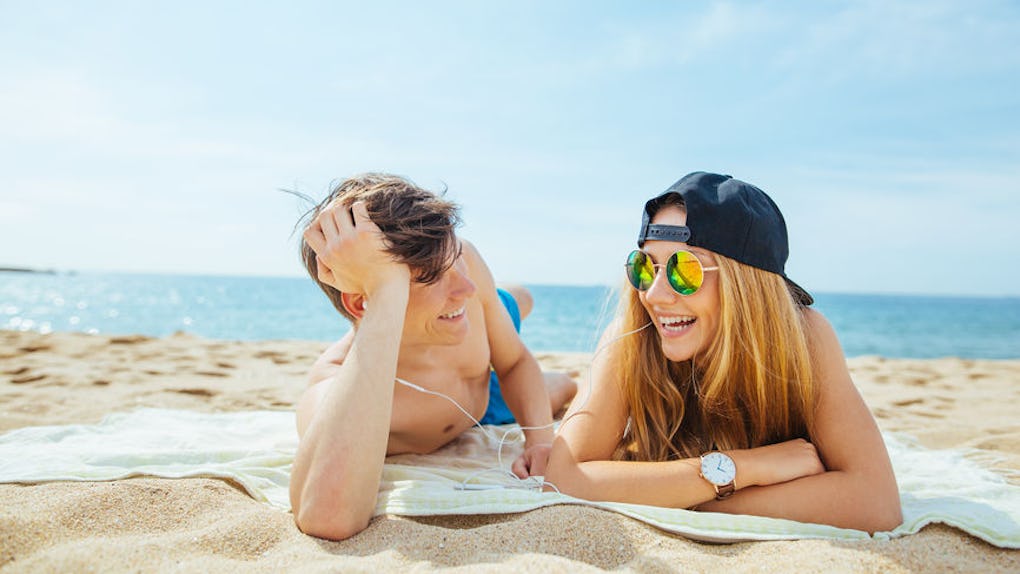 Bonninstudio/Stocksy
3 Zodiac Signs To Flirt With This Summer If You're Looking For A Beach Hookup
The weather is heating up, and you know what that means: It's time to hit the beach! It's the perfect place to get some sun (don't forget the sunscreen!), have fun in the water, and, most importantly, get your flirt on with a hottie. Because, who doesn't love a good summer hookup? Summer love is famous for a reason, but with so many folks to choose from, how do you even pick? Let the stars be your guide, because knowing which zodiac signs to flirt with this summer will definitely be helpful in making sure your beach hookups are a full-blown success.
The key here is to pick people who are like-minded, who have the same summertime fever, and who are just looking to have some seasonal fun. But since you are specifically looking for folks on the beach, they also need to be people who love getting out and showing off their summer bods. So, for example, while Taurus may crush it the bedroom, their preference for indoor activities means they aren't going to be on your radar this time. But who will be? To answer that, you're just going to have to read on. Let the summer flirting commence!
Aries (March 21 To April 19)
When you're at beach this summer, there will be no shortage of Aries ready to hook up. This enthusiastic sign spends the cooler months dreaming of summertime when they can get back outside and take on some new adventures. They are always on the hunt for new experiences. Whether that means windsurfing or romance, you can count on them to be up for anything at a moment's notice. They love spontaneity and thrill-seeking, so if you've always wanted to have impromptu sex on the beach or under a pier, Aries is the one for you.
Leo (July 23 To Aug. 22)
If you want to spot a Leo, just look for the hottest folks in the smallest swimwear. Yes, this sign lives for the summer months when they can really show off what they're working with. They love attention and having all eyes on them, so they basically spend the entire season in paradise. Leos are out in full force, looking hot AF and ready to go. What more could you possibly want from a summer fling?
Now don't get me wrong, Leos may be a bit egotistical, but they balance that with a warm heart and a genuine desire to connect with others. So, while they may not love you for long, they will love you well.
Sagittarius (Nov. 22 To Dec. 21)
Like Leo, the winter is a hard time for Sag, as this wild-at-heart sign is always craving the outdoors and exploring all it holds — including, quite possibly, you. If there is any sign in the zodiac more up for a no-strings-attached summer hookup, it's Sagittarius. They're the life of the party and always up for a good time. So, while they are more than happy to rock your world for a while, just make sure you don't actually fall too hard for a Sag. They may be easy to catch, but they can be hard to keep — especially in the summer, when they are really feeling their oats.
There you have it! While every sign in the zodiac has the potential to rock your world this summer, these three signs are really your best bets for an incredibly satisfying, but casual, summer hookup. Just make sure, like in any hookup, to stay safe! Use the buddy system on a crowded beach, pack condoms or dental dams if you're going on vacation, and make sure someone always knows where you are. Summer is a time to let lose and relax, but make sure you're doing so responsibly.
Check out the "Best of Elite Daily" stream in the Bustle App for more stories just like this!