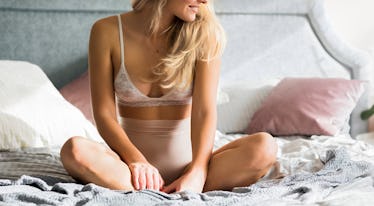 5 Sexts To Send If Your Relationship Is New & You Don't Want To Come On Too Strong
Sexting is a great way to keep things spicy after the honeymoon phase ends. It's a reminder of those early days when you just can't get enough of each other. But what about during that honeymoon phase? It's never too early to start getting sexy with your SO — and I say go for it. When it comes to sexting, there's no time like the present. That being said, breaking the ice can be daunting, so it's also good to have sexts to send if you're in a new relationship ready to go whenever the spirit moves ya.
When it comes to sending dirty texts early in the relationship, part of the process is finding out what will turn on your SO, without crossing over the line into coming on too strong (if there is such a thing, am I right?) So, I suggest starting out with a message that's more teasing and alluring in tone, rather than straight-up explicit. Hey, there is plenty of time to build up to that and, honestly, that's half the fun. So, to help you get inspired and get those sexty fingers typin', here are some sexts you can send your new bae to kickstart some virtual and oh-so-adult fun.