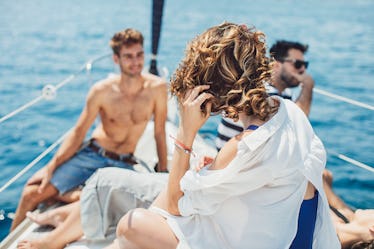 5 Sex Moves To Try On A Boat That Are Knot To Be Missed This Summer
I don't think anything screams summer romance more than hanging out around a body of water. Spending your time leisurely laying out in the sun, dressed in your favorite swimsuit, or going on a boat ride sounds pretty incredible. It's the perfect way to unwind and feel — honestly — pretty horny for a summer hookup. So, have you ever daydreamed about sex moves to try on a boat? Consider the possibilities for just a second, because they're pretty freaking hot.
Getting out and away from your daily life can feel really magical and totally set the mood. Being away from shore can certainly be a change of pace, leaving you feeling uninhibited and fully ready to make a move. Consider the best kiss scenes that cinema has ever seen, such as the romantic rowboat scenes from The Notebook or The Little Mermaid. One of my most formative romantic memories is looking up at the stars on my dad's fishing boat with a boy I had a crush on. We kept sneaking out to the boat to look up at the Michigan stars. We once held hands, but I was far too nervous to initiate anything else.
Given the opportunity (aka: a boat of any kind. HMU if you have the hookup), I would happily try any number of the following. These five sexy moves will have you saying, "All aboard!"