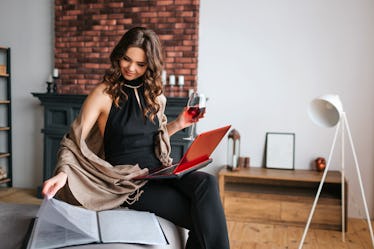 Stay Independent In Your Relationship With These 5 Self-Care Routines
Shutterstock
Certainly, relationships are a two-way street — they require effort on from both partners to thrive. Still, there are lots of habits you can adopt on your own that can benefit your bond. And while self-care may seem like an individual practice, making it a priority can actually have lots of advantages for your love life. In fact, there are a slew of self-care routines to try in a relationship that can help you to maintain your independence, which is oh so key to a healthy connection.
Individuality is crucial to a healthy, happy relationship. And yet, especially in that early honeymoon phase of a relationship — when the excitement is high and the infatuation is real AF — it can be challenging to separate yourself from your partner. When every statement starts with "We" rather than "I," you can't remember the last time you saw your squad, and you hardly have any hobbies that you don't participate in together, it's extremely difficult to hold onto a clear sense of self.
But that's where self-care comes in. Making self-care a regular priority helps you to take charge of your own physical, mental, and emotional well-being (rather than relying on your partner for that) — and ultimately, tending to your needs will put you in a better position to show up for your partner as well.
Not sure where to start? These easy yet effective self-care routines are sure to make you feel more self-sufficient.