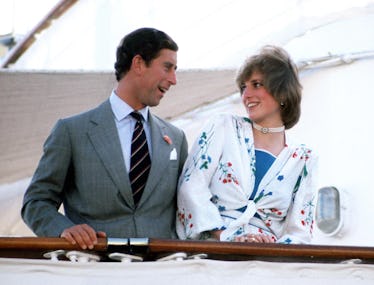 5 Sad Facts You Didn't Know About Prince Charles & Diana's Rocky Marriage
I get why people like royal weddings. They look happy and shiny, and make people think about kings and queens and fairytales. But fairytales are stories for a reason. Monarchies are not very nice, as any feudal serf can tell you. The British Empire has a long and brutal history of colonization. The members of the royal family are figureheads for an entire nation, and their every choice is scrutinized heavily by the public. It's no wonder that some royal relationships, including Prince Charles and Diana's marriage, have their challenges.
Their union — one of the most famous in the world in the late 20th century — was not always a happy one. Charles and Diana met in 1980, got engaged on Feb. 3, 1981 after just six months of dating, and were wed on July 29 of that same year, when he was 32 and she was just 20. They later separated in 1992 and divorced in 1996, a year before her untimely death.
What lessons can we learn from their mistakes about our own love lives? Regardless of whether you're royal like them or just a mere commoner, there's plenty you can take away from studying their marriage.
1. Charles May Not Have Been Over His Ex
Prince Charles never really got over his ex, Camilla Parker-Bowles, before he got married to Diana. Apparently Charles was still so hung up on Parker-Bowles by the royal wedding day that he even cried the night before the ceremony, according to royal biographer Sally Bedell Smith's book Prince Charles: The Passions and Paradoxes of an Improbable Life.
Charles and Parker-Bowles broke up because of familial pressures, according to royal biographer Penny Junor's book The Duchess: The Untold Story, which was written with insight from Parker-Bowles' inner circle. Parker-Bowles wasn't considered to be "sufficiently aristocratic" or "virginal" enough by the royal family to be queen. She moved on and got married to someone else, but she and the king remained close confidantes, much to Diana's distress. Charles rekindled his affair with Parker-Bowles in 1986, after Princes William and Harry were born. Diana famously said that there were three people in her marriage to Charles, making their union "crowded."
2. Diana Was Essentially Alone Throughout Her Engagement
Throughout her engagement Diana was held to completely unreasonable standards by a public fixated on fetishizing princesses. The press became obsessed over the question of her virginity. At just 19, she became the center of tabloid attention when the newspapers reported she'd had two late-night meetings on a train with Charles on the Royal Train in Wiltshire. She also only saw Charles a dozen times before their wedding, meaning that she was getting married to someone she hardly knew.
3. The Stress Took A Toll On Diana's Health
Around Diana's engagement, she was so distraught during a polo match that she cried. A few months before the wedding, she became severely bulimic. She lost so much weight that designers had to create five different wedding dresses to fit her.
4. Diana Was Miserable Throughout Her Wedding And Marriage
Even though Diana's wedding was a fairytale spectacle, she was so miserable on the day of the ceremony that in recorded tapes she later remembered it as the worst day of her life. Far from being swept away by romance, she said that after they were married, Charles only wanted sex about once every three weeks, a pattern she believed came about because of his relationship with Camilla. In those tapes, she once said, "If I could write my own script I would have my husband go away with his woman and never come back."
5. Charles Had His Doubts About The Marriage, Too
Prince Charles reportedly had a fraught relationship with his father Prince Philip, and felt bullied into marrying Diana. When Charles was feeling uncertain about his relationship, Prince Philip sent a letter to him pressuring him into making a decision about marrying Diana, according to Smith. Philip said that Diana's reputation was on the line. Although Charles was not in love with Diana and was not ready to make a decision, he assumed his father was bullying him into committing to Diana fully.
There is much more that has been written about the nuances of Charles and Diana's marriage and what led to its devastation, but ultimately, the match just never seemed to be a stable one. Charles and Diana separated after 11 years of marriage at the orders of the Queen. Although Diana didn't live to see her sons marry, we can be glad that their relationships seem much more stable than that of their parents, even beyond the cameras' glitz and glam.