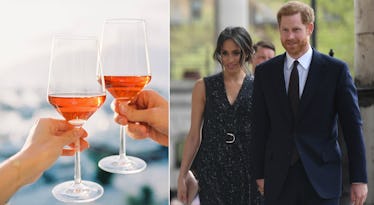 5 Royal Wedding-Themed Wines That Are Perfect For Your Viewing Party
Wedding bells will soon be ringing for Meghan Markle and Prince Harry at St. George's Chapel in Windsor, England. It is arguably the most anticipated marriage to be broadcasted around the globe since Prince William and the Duchess of Cambridge were wed at Westminster Abbey in 2011. Needless to say, a royal wedding is not to be missed, and calls for a proper celebration. If you're like me and can't make it across the pond for the big day, you can still commemorate the occasion from afar by hosting a viewing party. So raise your glass, and give a toast to the bride and groom with one of these dignified royal wedding-themed wines.
From rosé to champagne, I've got you covered for the best wines to sip while you swoon over the details of Markle's wedding dress, or just how stinkin' adorable Prince George and Princess Charlotte look walking down the aisle. Oh, did we mention the dreamy horse drawn carriage ride? You're going to need a beverage to go with all of the excitement.
The wedding — set to take place on Saturday, May 19 — begins at 12 p.m. in London. For all of you sleepyheads, that's 7 a.m. ET and 4 a.m. PT. Television coverage of the event is expected to start two hours prior. With a start time that early, a glass of royal wedding-themed wine will help you wake up. So tell your friends to head over to your place for a truly regal watch party. Here are a few recommendations as to what celebratory wine to indulge in during the royal wedding.
Cheers!