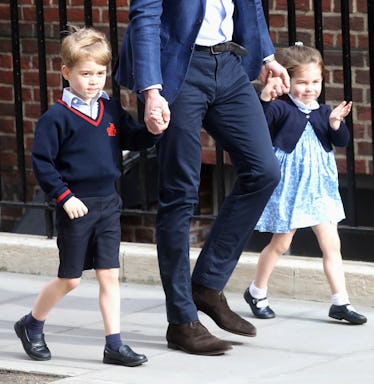 Here's What Prince George & Princess Charlotte Will Be Doing During The Royal Wedding
Chris Jackson/Getty Images Entertainment/Getty Images
Weddings are, no doubt, a family affair. But when you're part of the Royal Family, family plays an extra special part in the day's festivities. On May 19, Prince Harry will wed his beloved fiancée, Meghan Markle, and the world is wondering just which roles the prince's extended family will play in the wedding. More specifically, people are curious about whether Prince William and Kate Middleton's kids will partake in the day's events. So, are Prince George and Princess Charlotte in the Royal wedding? The answer is most definitely yes!
Rumor has it that Prince George, who will turn 5 in July, and Princess Charlotte, who turns 3 in May, will have extra special roles in the wedding.
Prince George is "expected to serve" as a page boy, much like he did during his aunt Pippa Middleton's wedding. Princess Charlotte, on the other hand, will likely be on flower girl duty, which is super cute! Hopefully, the world will get a good look at these two cuties as they do their part in Uncle Harry's wedding!
Their roles in the Royal wedding are steeped in tradition. Royal children are very frequently asked to take part in royal weddings. Queen Elizabeth was actually a bridesmaid for her uncle, the Duke of Gloucester, in 1935. She was just 9 years old at the time. And her sister Margaret was also a bridesmaid!
Prince Harry is set to marry Meghan Markle on Saturday, May 19, at St. George's Chapel at Windsor Castle. The wedding marks a turning point for the Royal Family for a few good reasons. First, it means that Harry's "bad boy" past will culminate in the tradition set forth for him by his family. Not such a bad boy, after all, I guess!
Second, the nuptials will push the UK to reexamine its relationship with race. Markle will be the first biracial woman on record to become part of the Royal Family. Historians have long suspected that Queen Charlotte, the wife of King George III, was actually biracial, but no official record confirms her as such.
Race and ancestry aside, May 19 is going to be a huge day for the royal family. A slew of guests are expected to attend, including Markle's longtime friend and celebrated actress Pryianka Chopra. A total of 600 guests were invited to the wedding, per Kensington Palace, so Chopra is going to be in some awesome company, for sure!
The ceremony is expected to be a traditional affair with performances by the St. George's Chapel choir, which boasts 35 total members. An orchestra of BBC musicians is also set to perform, as well as the State Trumpeters and a second choir. Harry and Markle were very much involved in choosing the music for their ceremony, so you can be sure that guests will be getting a taste of who this couple is via their music choices!
Harry and Markle are asking guests to donate to charity in lieu of offering wedding gifts, which is so heartwarming! For donations, the couple chose several causes that are close to their hearts. They include: Children's HIV Association (CHIVA), Scotty's Little Soldiers (for bereaved Armed Forces children), StreetGames (a sports-based charity that focuses on change), Crisis (a charity for homelessness), the Myna Mahila Foundation (for women living in Mumbai's slums), and Surfers Against Sewage (a movement tackling plastic pollution), and The Wilderness Foundation UK (a foundation that supports the appreciation of wildlife and nature).
In total, the wedding is set to cost around $2.8 million. Prince Charles and the rest of the Royal Family will be footing the bill.
All in all, it sounds like the whole event will be lovely and something worth looking forward to! I bet Prince George and Princess Charlotte are excited!