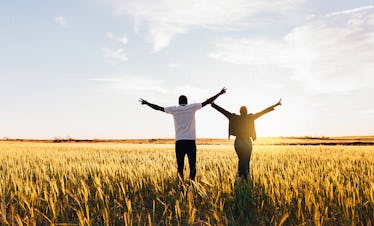 5 New Years Resolutions To Make With Your Partner, Because 2019 Is Your Year
One of the best aspects of being in a relationship is that with the right person, you can have the potential to experience immense growth. Being with your SO might teach you how to communicate better, how to avoid fighting "dirty," how to be more assertive, or how to adopt a more optimistic outlook on life. The best part? That self-growth is something that benefits you both as a unit. New Year's Resolutions get a bad rap for being unrealistic, but that's simply because as humans, we struggle with change. Luckily, making some new year's resolutions with your partner may mean you're more likely to stick with them. By holding each other accountable for those goals, you can cheer each other on, and celebrate small successes together along the way.
A relationship is a living, breathing thing. You and your SO will mature and change individually, and as a result, your dynamic might experience subtle shifts as well. And that's not a bad thing at all: In fact, much of the time, those changes demonstrate that you're learning about yourself: your needs, your fears, your insecurities, your priorities, and your values. Consider the new year a perfect opportunity to think about what changes you'd most like to see in your relationship — and then take action to make them happen by setting these game-changing goals.