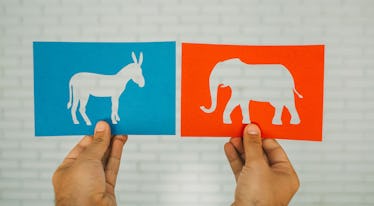 Experts Say These 5 Red Flags Mean You & Your Partner Are Politically Incompatible
Would you ever consider dating someone across the political spectrum? Do you feel like the answer to that question has changed in recent years? If so, then worry not. More and more people, particularly Millennials, are discovering they either don't want to date someone across the aisle, or that their bipartisan relationships are not working out. If you and your partner can't get over your political differences, online dating expert and author of Love in the Age of Trump: How Politics is Polarizing Relationships, Julie Spira, says you're not alone.
"The divisiveness we see now is very real in today's political climate. I believe most singles want to date someone with similar political views or find their political love match. Just saying the word 'Trump' can cause a visceral reaction to so many singles, especially Millennials," says Spira, who has the data to back it up. "In researching for my book, I asked singles if they would date someone who didn't vote. The majority, 87 percent, said they wouldn't even go on a date with someone who didn't exercise their right to vote, so politics is showing up on a date. Women feel strongly about not dating someone who didn't vote." She adds that another poll on her site, which asked "Would you date across party lines?" had similar results, with almost 80 percent answering no. "Donald Trump has become so toxic and polarizing to relationships that singles are asking a potential date who they voted for before meeting IRL. I've known plenty of singles who canceled dates, or went on ones where it became so tense while talking about politics, that it abruptly ended."
What if you started dating someone with differing political views before 2016, when the divide really became more pronounced? Is there any hope for your relationship? Spira says there is, but with a caveat. "Depending on how strongly you feel about politics, you can certainly make a relationship work, and there's no need to break up if you have other values and hobbies in sync," she explains. "Some bipartisan couples met before the 2016 election, so it's easier to let differing politics slide, but if you're a newer couple, it's hard to have a completely free no-politics zone since Donald Trump won the Electoral College, unless you're apolitical." That begs the question: How do you know if you are the kind of couple who can weather the political divide, or if it's time to accept that you need to veto your relationship? It's all about looking for the red flags that you're likely not going to be politically compatible. Here is what to look out for, according to Spira.