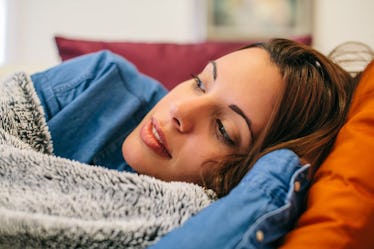 Experts Say These 5 Things Might Explain Why You Feel So Exhausted All The Time
Every so often I'll hear someone complain about how exhausted they are and think, well, why not just go to bed earlier? A warm shower and a few extra hours of shut-eye is pretty much my remedy for everything these days, but just because you feel burnt out doesn't necessarily mean you're tired in the traditional sense. There are plenty of potential reasons why you're always tired, and chances are, they might not have anything to do with a lack of quality sleep. You can snooze like a baby and still wake up tired AF, which is obviously super frustrating and annoying, but I'm here to tell you that it isn't abnormal, nor is it untreatable. The trick is to figure out what's causing your fatigue in the first place, and make adjustments from there.
If you, like me, tend to only associate being tired with a sloppy sleep schedule, your assumption isn't necessarily wrong, but it's not always right, either. To figure out how much of being tired actually has to do with a lack of sleep, I reached out to Alesandra Woolley, executive editor of Mattress Advisor, for some answers. But before diving into the direct — or indirect, I should say — connection between sleepiness and actual sleep, Woolley mapped out what it actually means for your body when you feel "tired."
Basically, if your "bodily processes aren't functioning correctly," Woolley explains — meaning you're experiencing some kind of hormonal imbalance, or perhaps some kind of mental health issue — "it can cause genuine exhaustion of your body and mind," she tells Elite Daily. If you're occasionally tired, and can link exhaustion to a blip in your sleep schedule, then it's probably a sleep issue, she clarifies. But, if you're chronically exhausted, that's when an underlying issue is probably at play. "If you increase the quantity of your sleep to around seven to nine hours per night and still feel exhausted," Woolley explains, "you should consult with a licensed professional to diagnose the cause."
But let's not jump to conclusions here. Just because you're a sleepier person than those around you, that doesn't necessarily mean your health is at risk. However, I'm not a doctor, so to narrow down a few potential reasons why you might be tired all the time, I've asked the experts to weigh in. Here's what they had to say.