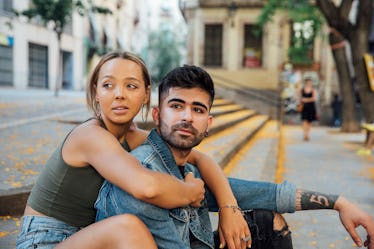 5 Reasons "Almost" Relationships Are The Actual Worst When You're Looking For Commitment
When you give someone a piece of your heart, and they throw it away, the pain lingers. When someone gives you a piece of their heart, and you don't want it anymore, the ache of doing to them what was done to you can really hurt. The agony that presents itself when an "almost" relationship comes to end because your feelings aren't reciprocated, and you feel like you shouldn't be so upset because it wasn't official, can do some serious damage. There are countless reasons "almost" relationships are the worst, and that's just one of them.
Picture being with someone all the time, going on dates, sleeping over, but never truly being together. They don't introduce you to your friends. They don't discuss the future. They don't define the relationship. When you're looking for a commitment, whether it be long-term or short-term, finding yourself in an "almost" relationship is way rough. You spend all this time and invest all this energy into someone because you genuinely want to be with them, and then you find out they don't want something serious. They want what the two of you have right now — an "almost" relationship. Here's why that can be brutal, so if you're looking for commitment, take a step back.