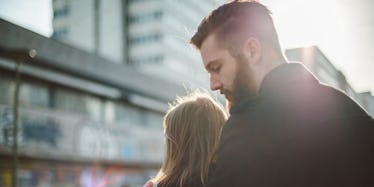 5 Signs Your 'Almost' Relationship Won't Turn Into Something Serious
When women begin dating men, they have certain expectations of where the relationships will go. I'm not talking about marriage, kids and a house with a white picket fence, but when the dating is good, we assume this will lead to some sort of relationship.
In some cases, we're right. The dates turn into Sunday nights at home watching "Die Hard" and eating Chinese food in bed together, and you no longer have to worry about who's going to text first and if you're going to see each other again.
In other cases, the cute dates and endless hours of conversations turn into nothing, and we're left wondering what the hell happened and where on Earth we went wrong. Here are five simple reasons why things didn't work out:
1. You were just an "in the meantime" woman.
An "in the meantime" woman is someone you have sex with until someone better comes along. You're not the one, but for all he knows, "the one" might not come along for another two years. So, he needs something to occupy himself with in the meantime.
2. Your novelty wore off.
The unknown can be an exciting prospect to many men. Women who aren't emotionally serious tend to get very boring very quickly. After all, half the fun of dating is getting to know someone over time.
My advice? Hold some cards close to your chest. He doesn't need to see the entire deck just yet. Men have natural hunter instincts, which means making yourself too emotionally available makes everything a little bit easy.
Half the fun of the kill is the hunt. In relationship terms, that means don't put yourself on a plate.
3. There's someone else.
If he's not spending his time with you, there's a chance he is spending it with someone else. No amount of Facebook stalking or Instagram scrolling for clues will help you here. If you haven't made it to the "exclusivity" talk, then now might be the time to bring it up.
Don't be angry or aggressive, and definitely don't ask him over text. Every woman has the right to know if someone she is seeing is still dating other women. If he is, then maybe now might be the time to run.
4. You were a challenge that he completed.
Men who like a challenge see women like video games. There are different levels and different cheats and codes to unlock certain compartments (if you know what I mean).
The more challenging a video game is, the longer a man will spend playing it. If he completes it in a few hours, chances are, he'll take it back to the shop and swap it for another, more exciting one.
5. He's just not ready for a relationship.
All men want to settle down eventually. Some men crave relationships. Others have alternative priorities, and there's nothing wrong with that.
Unfortunately for you, until they've checked certain items off their life to-do list, you're just another woman who came along at the wrong time. Even men who don't want relationships need someone to pass the time with.
But eventually, a guy realizes that dating is pretty expensive, and wasting money on a woman he doesn't see a future with is not financially viable. Plus, he's noticed the way you look at him, and he's pretty sure if he keeps this going, you're going to get emotionally attached.
So, what do you do when a man pulls away? Absolutely nothing. I once read that "If people need space, you should give it to them. If you don't, you'll get closer to them, and they'll grow away from you."
Retaliation is futile. In fact, he's probably expecting it. When a man stops making effort, women start with the "Would you like to meet up?" messages, the casual phone calls and the three super hot Instagram updates to catch his attention. But, he saw this coming a mile away.
Contrary to popular belief, fighting for love rarely gets you what you want. Focus on your own life, and if what you had is worth saving, he'll realize that. If he doesn't, then I would be so bold as to say, he might not be the man for you.