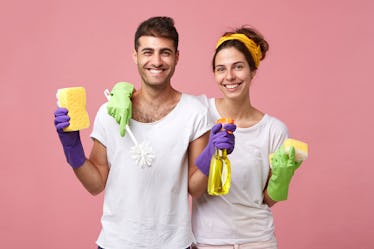 5 Questions To Ask Your Partner About Chores Before You Agree To Live Together
Moving in with your partner is a really exciting step. Here you are, making progress in your relationship and starting a whole new life together! It's romantic and fun, but it can also feel like the point where things start to get very real between you two. That's because, along with all the amazing things about cohabiting come all the practicalities of sharing a living space. Which, of course, also means you're going to have to figure out how to divide up the housework. There are several questions to ask your partner about chores that you're going to want to hash out before you pick up the keys to your brand new place, because trust, you'll be so much better off if you make sure you're on the same page.
While chores may seem like a small, unimportant thing before you move in together, they can easily turn into a point of contention once you begin settling into your new place. Chores can also become a source of a lot of friction if you're not on the same page about how tidy you want to keep your home, and who's responsible for what parts of keeping it that way. Over time, the way you divvy up chores will likely evolve with compromise and understanding, and eventually, you'll find your rhythm. But you'll save yourself a lot of stress and resentment by having the conversation before you move in, and at least try to figure out a temporary chores arrangement. So, if you're about to move in with your boo, here are the questions you should ask about chores before you move on in.