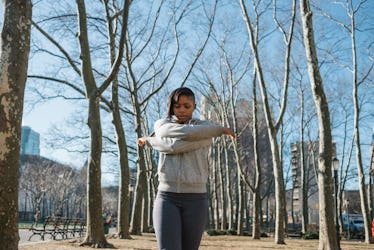 5 Gentle Post-Holiday Workouts That'll Ease You Back Into The Swing Of Things
The holidays are truly a glorious mess of stress, chaos, and just a touch of magic and cheer — all bundled into one. And if you're like the majority of people during this festive season, you probably haven't stepped foot inside of a gym or even onto your home workout mat in weeks. TBH, holiday cookies come way before squats on the list of priorities during this time of year, and that's totally OK. But when the celebrations cease, you might be up for a few gentle post-holiday workouts to ease you back into a bit of movement and restore that feeling of being an actual, functional human being in society.
If you've ever taken a couple of weeks off from a workout routine and then tried to plunge headfirst back into it with an intense HIIT circuit or heavy deadlifting sesh, you know that the results are not pretty. Personally, when I try to go too hard, too fast after a little workout vacay, my body retaliates with aggressively sore muscles, major fatigue, and instant burnout overall.
Needless to say, I've learned my lesson the hard way: maintaining an active lifestyle is a marathon, not a sprint, and you have to show your body all the TLC in order for it to love you back.
So, if you've temporarily put your exercise routine on the back-burner to spend time with family and friends during the season of giving, try these five gentle post-holiday workouts that'll ease you back into the swing of things in no time.