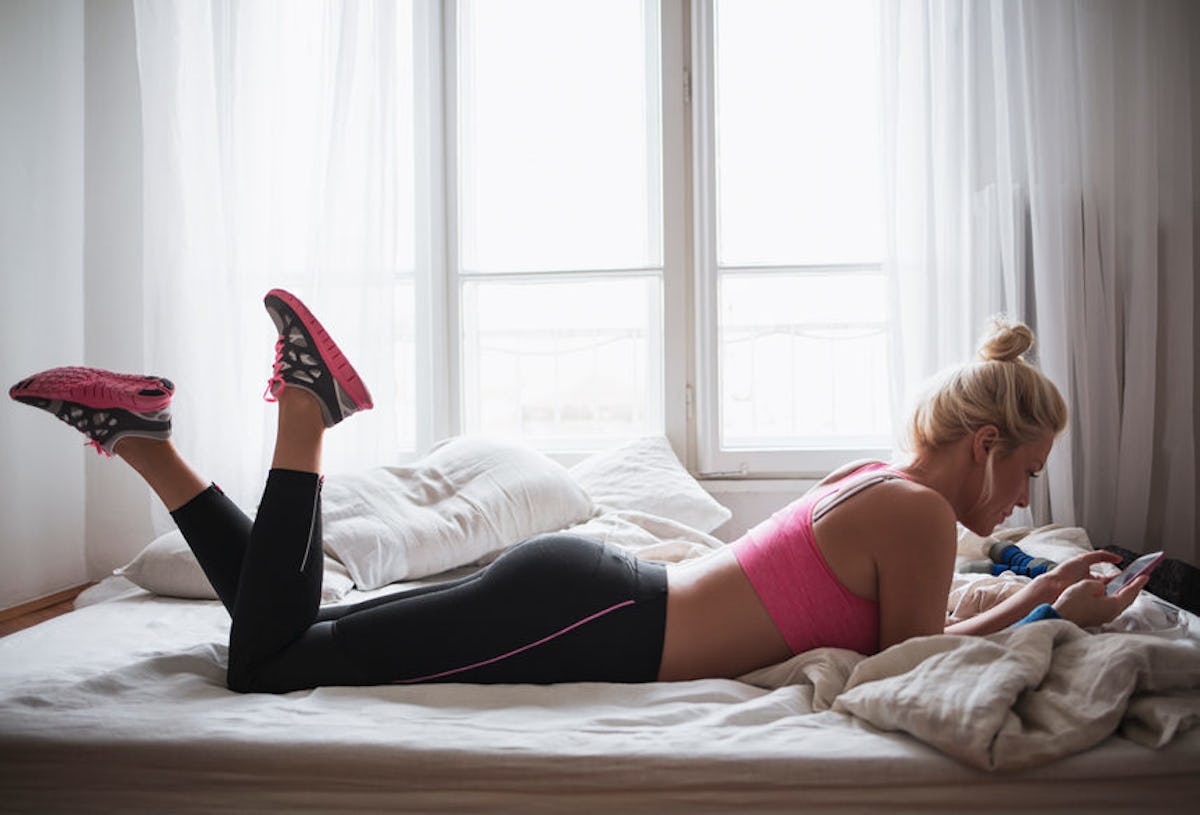 6 Ways To Work Out When You're Home For The Holidays And Far From The Gym
When the cookies are scattered around the kitchen, the lights are strung across the family room and the menorah is burning, exercise probably isn't your first priority.
And hell, your family is also right there, wanting to spend lots of time with you.
But sticking to your workout routine is important because no one wants to return from the holidays 5 pounds heavier with flabby muscles.
The ugly sweaters may cover it up for the short-term pics, but they won't do you justice when you return to the office dressed in real people clothes.
And between the politics and one-liners from Uncle Joe, you're going need some quality alone time.
So, here are six tips for keeping that body toned and fit while you gel with the family under that golden tree:
1. Work out with bae.
If you're home for the holidays with your significant other, why not work out together?
The couple that eats together and sleeps together should also work out together, right? Go for a run around your SO's hood or help each other do body-resistance exercises.
Whatever you do, stick together.
2. Burpees.
These guys are killer, but a handful of them will leave you on the quick road to toned. And several sessions will drop you right off at Greek Goddessville.
They're a great workout for your arms, chest and core, and they will dump cardio right there in the mix, too.
Just do 10 minutes, and you're done. Talk about efficient!
3. Entertain yourself.
Download your favorite show or rent that movie while you're getting some cardio in.
You'd be surprised by how fast the time flies when you're consuming some great content. Before you know it, you'll be done working out, and Grandma will be offering you another plate of cookies.
You can also download a new album because listening to the same old music or Pandora station can get boring.
Go back 30 years, find an old school artist you love and download the whole album. It'll keep you motivated for at least three workouts if you're listening on repeat.
And how about some holiday music to get you in the spirit?
4. Challenge your sibling.
We all know there's nothing wrong with a little healthy competition between family.
Set a goal that the sibling who gets the most workouts in during the holiday weeks must treat the other to a $20 reward.
Whether it's an iTunes gift card, salad lunch or expensive coffee, anything goes — as long as it's healthy.
5. Use a tracker.
Fitness apps are all the rage, and they can help you reach your target calorie burn rate every day. Apple HealthKit is a great place to start, and you probably have it right on your phone.
Charity Miles donates money to charity for each mile you log, and it's another great way to give back during the holiday season, too.
6. Go in the morning.
I know, I know. You're on vacation, work is an internet lifetime away and no one wants to get up early.
But here's the thing: Morning workouts set the tone for the rest of the day.
Don't want to inhale a massive lunch? Mom's stuffing got you too stuffed?
Flexing those muscles in the earlier hours gives you the motivation to eat clean for the rest of the day, and it helps you feel better for the long hours of family time ahead, too.
No need to set a 6:30 alarm. This is vacation, so make it 8:30.
Working out kind of sucks. But you've come so far this year, and fitness will totally be among your top New Year's resolutions.
You can't afford to let yourself go now! Keep up your momentum, and set the tone for the bright and beautiful 2017.
The volume of likes on your pics will reward you for the month to come.