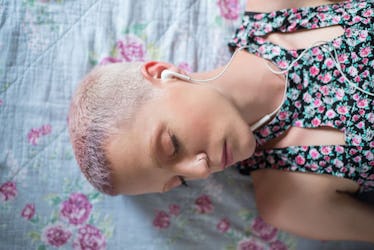 When You Find Yourself Tossing & Turning In Bed, Listen To One Of These 5 Podcasts
Ever since I've had a smartphone, I've been falling asleep to the gentle lull of podcasts — well, only a certain kind of podcasts, I should say. For instance, as much as I love S-Town, I just can't fall asleep listening to an episode of that particular podcast, because if the true crime genre is anything, it's definitely sleep-preventing (and I always have to double-check my closet afterward for hidden bad guys). So when it comes to finding podcasts to listen to when you can't sleep, it's probably best to lean more toward quiet, soothing voices, rather than suspenseful storytellers.
If you ask me, the perfect snooze-inducing podcast has to be both interesting enough to focus your mind on something other than that one awkward interaction you had with your boss earlier in the day, and yet relaxing enough that you will feel free to drift off without feeling anxious that you're missing something important. If you have trouble falling asleep on a regular basis, queue up one of these soothing recordings to help convince your mind that it's time to sleep. From car advice to the world's most boring bedtime stories, taped therapy sessions to British literature, these podcasts will be sure to send you off to a restful night's sleep.