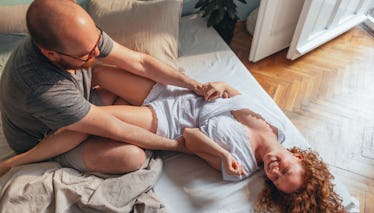 5 People Reveal The Most Cringeworthy Times Their Parents Walked In On Them, & OMG
One of the most mortifying things that can ever happen to you as a sexually active, consenting adult is being caught having sex. Really, the worst-case scenario would be for your parents to catch you doing the deed. Can you imagine? Well, you don't have to, because these stories of people whose parents walked in during sex are seriously cringeworthy. But, they somehow lived to tell the tale.
The thing is, no matter how cool your parents are, you never want them to see you doing the most intimate act on earth. It's just not natural. So, what happens when the worst-case scenario of getting it on occurs? Well, I dug into the depths of the internet (read: Reddit) to find some real-life stories from people who have experienced the closest thing to hell on earth. And let me tell you, not only are these stories cringeworthy, but they might even ruin sex for you all together. (OK, so that is a lot. Maybe for just like an hour or so.)
Still, you get my point. If nothing else, let these true tales serve as a warning call for all who read them. And most importantly: Always lock the door.