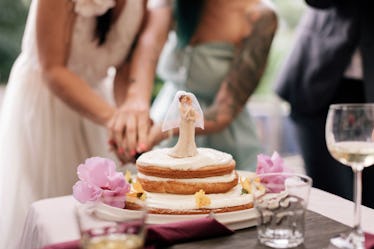 5 Newlywed Brides Reveal How They Chose Their Wedding Cake, Because It's Not Always Easy
Planning a wedding is an exciting time, but it can also be pretty stressful. If you plan on having a traditional wedding ceremony, you have to plan the venue, the caterer, the florist, the dress, the colors, the theme, and so on until it feels like your world is imploding. (Yes, this observation is based on personal experience.) There's so much that goes into planning a wedding that it can be hard to keep your head above the water. But if you're in the midst of wedding planning, then hearing these newlywed brides reveal how they chose their cake might help you feel better. Like, a lot better. Because, spoiler alert: It's all worth it in the end.
Now, if you're planning a wedding, you've probably heard that the wedding doesn't matter as much as the marriage, and not to stress too much about things you can't control. It's a nice thought, but doesn't really help when you're up to your neck in florist proposals. So, what might help you (and what I've found to be the most helpful while planning my own wedding) is to hear from past brides who have been there and know what it feels like. Without further ado, I present to you, just that.