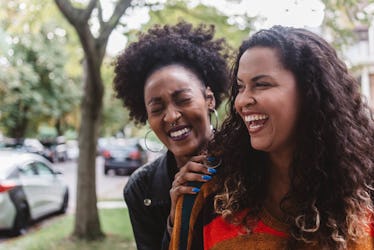 These 5 Resolutions Will Help You & Your Long-Distance BFF Keep Things Strong In 2019
Sometimes the best friendships are the hardest ones to keep. Take long-distance friendships, for example: You love the person more than anything, and you can't imagine them not being part of your life — but yeah, maybe you forget to show how much you care sometimes. It's not that you don't care; maintaining any kind of long-distance relationship can be difficult, and it's easy to get distracted by ~life~ and stuff when you can't see your BFF at a moment's notice. If you want to work on keeping the friendship strong in 2019, establishing New Year's resolutions for long-distance friends, and setting intentions to stay in touch, will help you feel closer to your bestie until the next time you guys can squeeze each other in a big hug.
The truth is, long-distance friendships don't have to survive on wistful sighs of "I miss you" and "I wish you were here." In fact, focusing on what you don't have in the friendship probably won't help things in general. But you know what might? Figuring out those little ways in which you can be part of each other's day-to-day in the new year.
Look, I'm not saying maintaining a long-distance friendship is easy, especially if it's someone you're really close to. But that's part of what can make the bond between long-distance friends so much stronger than others: It takes that much more effort to keep the relationship going, and you both know deep down that you can always lean on each other whenever you need a laugh, or simply need someone to listen to you vent on the phone for a little while.
That bond is unbreakable, and distance has nothin' on you guys. Here are a few resolutions to help keep your friendship strong in 2019.