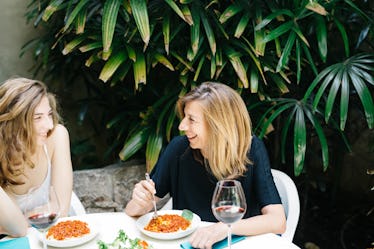 5 Mother's Day Restaurant Specials That Your Mom & Wallet Will Both Love
Let's be honest, you probably don't call your mother enough. I bet you get those texts that say, "Remember me? Love, Mom." You might live far away, or just too preoccupied with outdoor music festivals to spend time with the women who raised you, but enter Mother's Day and your chance at redemption. So here are five restaurant specials for Mother's Day, so you don't have to ask Mom to foot the bill (as usual).
There are plenty of restaurants across the country who would love it if you chose them to celebrate Mother's Day on May 13. So these eateries are throwing all kinds of special deals at you to get you in the door. Maybe you want to do a classic Mother's Day brunch with mimosas and french toast or veggie omelettes. Or maybe brunch isn't your thing, and you and Mom are looking to chow down on some seafood or steak at a reasonable price. Whatever you're into, I've put together a list of places that are avalaible across the country and that are sure to impress Mom. They're so good that maybe you'll even get to slide a week or two on those phone calls.
I won't hold out on you any longer. Here's a handy list of Mother's Day specials. You're welcome.