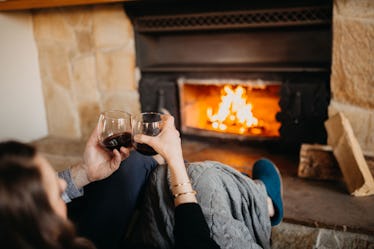 5 Lazy Date Ideas For When You & Bae Are Tired, But Still Want To Hang Out
Ever since it started getting dark around 4:30 p.m., I've been feeling oh-so-very tired, and with all of the hustle and bustle around the holidays and wrapping things up for the year, the idea of planning something to do for the weekend feels like a massive amount of work. But when you're in a relationship, it's always nice to make a bit of effort and plan to do something fun together, even when you are oh-so-very tired! If you're feeling stressed and spent from your week, here are some super easy lazy date ideas for when you're tired but still want to spend some QT with your honey.
Not all date nights need to involve spending a ton of money on a fancy dinner, or seeing a movie in a theater, or getting super dressed up. Sometimes the best moments you can spend with someone you love are just simply being together at home. Especially when it's chilly out and the week had you running around like a superhero, the idea of staying home, being cozy, and reconnecting with your partner sounds like heaven. Here are a few ways to have an easy plan for a chill evening at home with your loved one — minimal effort required!