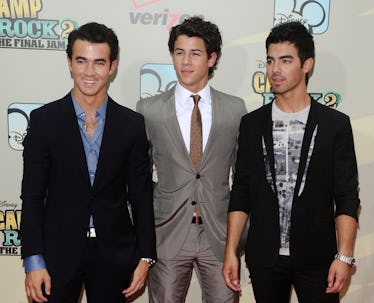 5 Jonas Brothers TV & Film Moments You Definitely Forgot About
Andrew H. Walker/Getty Images Entertainment/Getty Images
It's 2019, but it may as well be 2009 after the major dose of nostalgia the Jonas Brothers just delivered. The band of brothers officially reunited after originally splitting in 2013 and released a new single, "Sucker," on March 1. Even if your middle school crush on one of the guys never went away, your memories of their TV and movie work may have. If you want to keep reminiscing about the simpler days of the group' Disney reign, we've got you covered with Jonas Brothers TV and film moments you forgot about. Am I the only one just burnin' up with memories right now?
Debuting as a boy band in 2005, Kevin, Joe, and Nick Jonas first swept up starstruck audiences thanks to their musical performances. Their work as singers and musicians segued into roles as themselves on a 2007 episode of Hannah Montana, leading to their parts in the Disney Channel Original Movie Camp Rock and their own Disney series. When their time with Disney winded down, youngest brother Nick initiated the conversation about parting ways as a band. The breakup was solidified by October 2013. Nick and Joe pursued their own music careers while Kevin and his wife began a family. If there was any definite sign of your childhood ending, that split was totally a contender.
Now with their new collaboration "Sucker" out in the world, the JoBros are back to giving us catchy bops to belt to in the car, but I'm not ready to mourn their acting careers just yet. We can probably count out the possibility of a Camp Rock 3 anytime soon, but I need to take a moment for the handful of years when the Jonas Brothers regularly blessed our screens. Do you remember these standout roles?