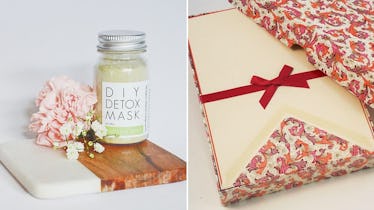 The Perfect Mother's Day Gifts To Send Your Mom If You Live Far Away From Each Other
Honey Belle/Etsy
When holidays like Mother's Day roll around, you're probably not going to be hop on a last-minute plane to show up at your loved one's front door with a bouquet of daisies and some cinnamon rolls, even if, in a perfect world, you'd love to do exactly that. But when you and your mom are separated by a sizable distance, that doesn't mean you can't celebrate Mother's Day at all. Rather, it's all about calling her first thing in the morning, Skyping into brunch, and of course, thinking of the perfect gifts to send your mom on Mother's Day. It's these little things that'll help bring you and your mom a little closer together, despite your distance when you've decided to move, like, 3,000 miles across the country.
Heck, your gifts could be so good this year, that your mom might even forget you aren't there to serve her breakfast in bed. A girl can dream, right?
But listen, living far away from your family can be really tough sometimes, especially if you're emotionally close with them. Putting in a little extra effort to say, "I love you, ma," with a gift that's all about finding ways you two can stay connected, will make this Mother's Day one your incredible mama won't soon forget.