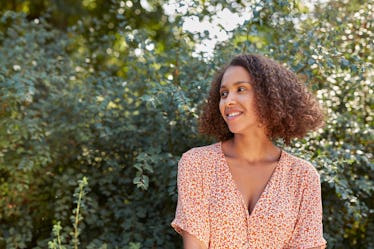 If Spring Allergies Are Your Worst Enemy, These 5 Foods Will Help You Through The Season
Even though it's only February, I'm ready for the temperatures to start rising, the trees to begin growing green leaves, and — most of all — the beautiful spring flowers to blossom again. Spring is a season full of rebirth, but for some people, the time doesn't exactly make them feel more alive. I'm lucky enough not to have spring allergies, but I've been told that the symptoms can be truly miserable for those who are affected. Luckily, there are foods that can help to fight spring allergies, so you can celebrate the season with your favorite treats, rather than sniffle your way through these next few months.
The chilly outdoor temperatures might make it seem like spring is far off in the future, but don't let the frost on the ground and your breath in the air fool you. Technically speaking, in many places, spring allergies begin in February and last until the early summer, according to the American College of Asthma, Allergy and Immunology, meaning it's really not too early to prepare.
So what do you have to look out for during this season? Pollen allergies, usually called "hay fever," are triggered by trees, grasses, and leaves. They are generally the first spring allergies to hit, as per the Asthma and Allergy Foundation of America. These culprits can cause symptoms like a running or stuffy nose, sneezing, an itchy face, and watery eyes. Unfortunately, according to the foundation, "These light, dry grains easily find their way to your sinuses, lungs and eyes, making them hard to avoid." As per the Centers For Disease Control and Prevention (CDC), about 8 percent of American adults deal with pollen allergies each year, so if you're no stranger to the springtime sniffles, you're definitely not alone.
Mayo Clinic lists allergy shots and medication as some of the potential ways to deal with uncomfortable allergy symptoms, but many experts suggest that certain foods can play a role in fighting allergies as well. Here are some tasty treats to check out this spring when you're feeling sniffly.