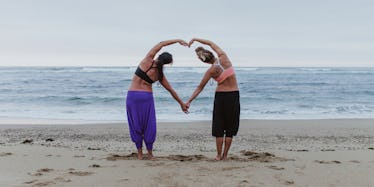 These Fitness Date Ideas Are Perfect For Valentine's Day If You're Over Dinner & A Movie
Valentine's Day is quickly approaching, and it's time to start thinking of a kickass date night for you and your SO. While some quality sushi, a glass of wine (or three), and the new 50 Shades movie all sound great, you're high-key over dinner and a movie, and you're itching to mix things up this year. Variety is the spice of life, right? If you and bae are looking for a more active night out, brainstorming some fitness date ideas for Valentine's Day might be the perfect way to go for the romantic occasion.
Listen, I'm not knocking the idea of going out and enjoying an amazing dinner for two — and by all means, you should totally grab some drool-worthy food after your romantic fitness excursion, since you'll probably work up an appetite, right? But seriously, dinner and a movie can basically go down any day of the year, and maybe this Feb. 14, you're looking to branch out from your typical date nights and trade in your favorite lipstick for your comfiest pair of Lulu leggings.
If that sounds like something you might be into, here are five fitness date ideas to prove that couples who sweat together, stay together.