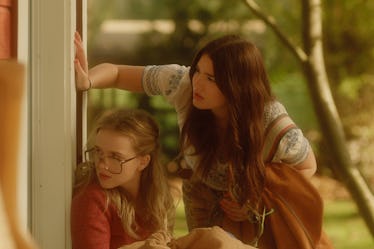 5 'Firefly Lane' Season 2 Theories That Will Keep You Guessing
Netflix
Netflix's Firefly Lane is a twisty family and friendship drama that takes viewers on a whirlwind trip through the decades. Based on the best-selling novel of the same name by Kristin Hannah, the series follows the friendship of Kate Mularkey and Tully Hart over three decades, from 1974 to 2003. But it also ended on a pair of giant cliffhangers, leaving fans to speculate what could happen in a potential second season. These Firefly Lane Season 2 theories are a reminder that the novel still has many pages left to adapt.
Warning: Major spoilers for the novel Firefly Lane (and potential Season 2 spoilers) are included in these theories. At 500 pages, Firefly Lane is Hannah's longest work, covering the full scope of Tully and Kate's relationship through to one of their deaths. This might come as a surprise to viewers, since the show didn't get anywhere near the latter part. The series barely covered half of the novel, leaving hundreds of pages to go for another season, should Netflix choose to renew the show.
That means theories for a Season 2 have a jumping-off point, but perhaps not as big of one as fans might think. The Netflix series already changed significant plot points throughout Season 1. (Tully does not get married in the book, for example.) So, even though fans have an outline to follow, all of these theories of how the show will play out the second half of the book are speculative.