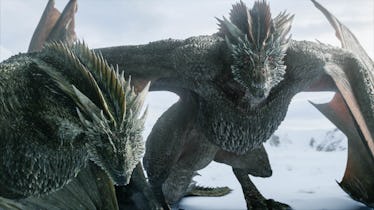 5 'Fire & Blood' Theories That Will Make 'Game Of Thrones' Fans Scream
HBO
HBO has been ultra-secretive about the status of any potential Game of Thrones prequel. Though the network commissioned five scripts as potential projects, only one got to film a pilot. Since then, there's been little news and nothing on any other potential series. Then, on Thursday, Sept. 12, rumors spread HBO was green-lighting a second pilot, based on George R.R. Martin's Fire & Blood. Since then, Fire & Blood theories have been running rampant, as fans try and guess what the show could be about.
The rumors started when Deadline got word of the following:
HBO is close to giving a pilot order to a GOT prequel from author and GOT co-executive producer George R.R. Martin and Colony co-creator/exec producer Ryan Condal, which is set 300 years before the events in Game of Thrones and tracks the beginning of the end for House Targaryen.
Any show set 300 years before the events of Game of Thrones begins with Aegon's Conquest. But "tracks the beginning of the end" of House Targaryen? Aegon Conquest is about the rise of the house, not the fall.
That's where Entertainment Weekly's source is helpful:
EW hears the series would lead up to and eventually chronicle the house's civil war — a.k.a the legendary Dance of the Dragons.
So how exactly would this show play out? With HBO refusing to comment, here are the going theories: