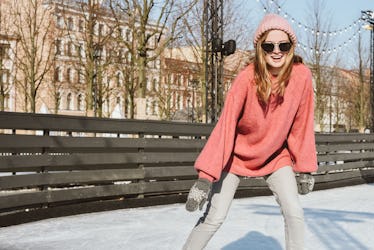 5 Festive Solo Dates That You Don't Need A Significant Other To Enjoy
Between Love Actually on TV around the clock, those #couplegoals posts peppering your Instagram feed of people holding hands on a skating rink or smooching under the mistletoe, and the sappy Christmas tunes playing repeatedly on Pandora, it seems as if romance is all around you during the holidays. Basically, you've never been more aware of your single status. But here's the thing: with a few festive solo dates, there's no reason why you can't take part in all the fun this season.
Before you balk at the idea of a solo date, consider this: Without someone else with you, you won't have to stress about how to split the bill, where to eat that will cater to both of your tastes, or whether it's cool to post an IG photo of your adventures. And by the way — a 2015 study showed that people have just as much fun going out alone as they would if they'd brought someone else along. A solo date is all about you — your needs, your desires, and finding ways to celebrate what's special about this season in any way that you see fit.
Ready to simultaneously embrace your single ways and get into the holiday spirit? Here are some dates to take yourself on pronto.