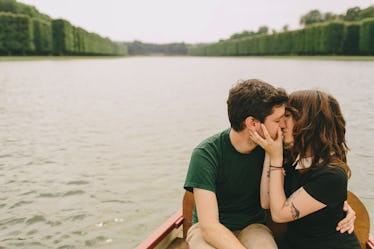 Impress Bae With These 5 Fancy Dates, Because They'll Love Getting Spoiled By You
One of the best things about being in a long-term relationship is how comfortable and safe it feels. You know each other well and have found that sweet spot to coexist. However, there is a downside to all this comfort, and that's when you get too comfortable and fall into a routine. When that happens, sometimes all you need to spice things back up is to break out of the familiar and do something new — and if you're going to do something new and special, why not make it luxe, too? In that case, you'll need a few fancy date activities to plan. After all, doesn't bae deserve to be spoiled a little bit sometimes? It doesn't hurt that you'll get a little spoiled in the process too — just sayin'.
Whether you're looking to spice things up and get out of a rut, or you're in a new relationship and want to impress your date, sometimes you just need to up your game and take bae on an unforgettable date. It can be something private and romantic, or even something more adventurous. The point is to make sure it's something they would love to do, but wouldn't necessarily splurge on it for themselves. Sound fun? Great, then here are some fancy ideas to get you started.