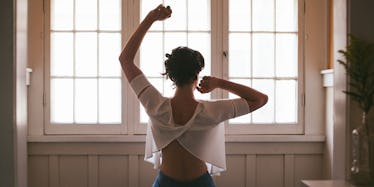 These 5 Exercises Will Loosen Your Body Up A Little After Sitting Down All Damn Day
As much as it would suck to have to stand all day long at work or school, chairs are kind of the worst thing ever. Sitting all day makes your body feel stiff and tense AF, and honestly, by the time you get home, there are knots in places you didn't even know could hold tension. If you know this struggle all too well, you definitely need to find some exercises to do after sitting all day that'll help loosen your body up and undo the damage of being parked on your butt for hours on end.
In 2014, the Washington Post published an extensive list of freaky, health-related consequences you can suffer as a result of sitting all day, some of which included heart disease, poor circulation throughout the body, foggy and impaired brain function, muscle degeneration, and even an increased risk of dying in some cases.
As if that's not jarring enough on its own to think about, consider how much more sitting we're all about to do with the holidays coming up: sitting in traffic on our way home to see our families, sitting on the couch to watch the Macy's Thanksgiving Day Parade, sitting on our butts to digest after we feast on Thanksgiving. Seriously, it's a little concerning when you think about it.
Unfortunately, you probably can't quit your desk job, nor can you stand up throughout an entire three-hour lecture in college, and I think it's equally safe to assume you can't use the "mortality of sitting" excuse to get out of seeing your family this holiday season.
Fortunately, though, you can challenge yourself to do a few of these simples stretches and gentle exercises each day to undo the damage of all the sitting you'll inevitably be doing.